About The LIFT LA Internship Program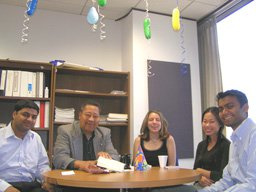 L.I.F.T. LA stands for Lasting Internships for Tomorrow's Los Angeles, it is a paid internship that is part time 15-29 hours per week school schedule flexible. These internships are year round (as opposed to a summer internship) and take place in a municipal setting in Downtown Los Angeles.
It is essential that companies and universities educate today's students for the influx of tomorrow's jobs. In response to the need for future trained professionals, TFLA has developed the LIFT LA Program. This program will recruit, train, and provide students with the opportunity to gain hands-on experience with live projects in broad fields so that they will be ready to succeed in tomorrow's job market.
The LIFT LA Program has been established for the purpose of placing highly qualified and skilled students into internship positions in public and private organizations. Students gain valuable professional and technical experience while employers gain innovative and creative individuals to work as part of their team. It is clear that this internship program creates a win-win situation for partners and students.
Veteran Support
TFLA supports veterans, we encourage veterans to apply for our internship program. We also provide Employers Support of the Guard and Reserve (ESGR) services. For more information please call 213-247-8865.
MTA, Boeing, GE, Northrop Grumman, UPS, Caltrans, LA World Airports, Metrolink, LFR Group, Northern Trust Bank, Air Quality Management District (AQMD), Los Angeles County, City of Los Angeles, Southern California Association of Governments (SCAG), CALTRANS.
Internship Qualifications: Internship candidates must be currently enrolled students in a local College or University degree program, and have a minimum of six months or more (preferably one year) until graduation. Qualified candidates will have a minimum B average GPA. To apply send resume, cover letter and GPA verification to TFLAinternships@gmail.com.
About the Transportation Foundation of Los Angeles
Transportation Foundation of Los Angeles is a tax-exempt, non-profit organization originally established by the MTA in 1991 for the purpose of providing education, training, and the advancement of knowledge and understanding that will promote the ongoing development of public transportation systems.
Independently established and separated from the MTA in July 1996, the Foundation is supported by federal, state, and private/corporate grants. In the broad fields of transportation, technology is rapidly expanding and had created a demand that far outstrips the supply of bright, education employees.
TFLA is a 501(c)3 organization supporting, educating and training students in their field of interest. By helping to make certain that the transportation sector, as well as other related industries, has the necessary resources to adapt to technological advances.